Timothy

Timothy

Gender

Male

Position

Accountant

Relaxes by

Making microwave beef stroganoff

Likes

Getting work done

Dislikes

His coworkers goofing off

Strengths

Financial

Weaknesses

Art

First Appearance

Episode 2 "Can You Handle It?"

Final Appearance

Episode 30 "Her Real Plan"
"Um... are you sure I won't... get in trouble? Aaaahhhh!"
Timothy is an accountant for Conkling Associates International. He is known for his neurotic personality.
Background
Edit
Timothy works in C.A.I before Denise's arrival. He is a quite experienced and knowledgeable in the happenings in the company.
Timothy had invented a new stress relief wig that can pull clumps of hair out without damaging the scalp and he becomes very wealthy selling the product. No one dares to ask whether there is stroganoff involved.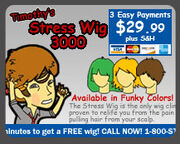 Appearance
Edit
Timothy wears a grey button-down shirt with a red tie. He is often seen with a pencil on his ear. He has brown bowl cut hair and has a slightly scruffy look.
Personality
Edit
Timothy is a worrier, prone to panic and stressing out when situations aren't going well. He is also constantly being annoyed by Mahavir's folly. A workaholic he is keen to getting things done and intolerant towards laziness. He does not like people, especially Winston belittling him and he seemingly wants to prove them wrong.
Timothy appeared in 7 episodes. He also haa a longest hiatus before returning in episode 29.
Timothy's favorite food is beef stroganoff.
His last name starts with G, and he does not like being called Timmy.
Although Timothy and Pearl knew each other, they never meet each other in any episode.