Nadine

Nadine

Gender

Female

Position

Assistant Manager

Relaxes by

Smoking

Likes

Air conditioning, crushing people's dreams

Dislikes

Anyone having fun

Strengths

Financial, Writing

Weaknesses

Art

First Appearance

Episode 19 "Welcome to Pearl World"

Final Appearance

Episode 30 "Her Real Plan"
"Nothing satisfies me like complete and utter corporate domination."
Nadine is an employee of C.A.I in Miss Management. She is portrayed as a ruthless snob.
Background
Edit
Nadine is hired by Pearl solely to assist her in "Project PEARL". She has three graduate degrees prior to working in C.A.I.
Nadine is determined to seize power by becoming the new CEO of C.A.I and considers
Winston
as her arch enemy.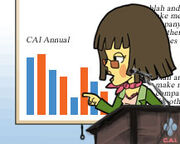 Appearance
Edit
Nadine has straight cut black hair with straight bangs. She wears tinted glasses and wears a red scarf around her neck. She wears a olive green pant suit with a peach top.
Personality
Edit
Nadine is depicted as a serious and cold young woman. She does not hesitate to hurl insults at others and display rudeness. She also has issues whenever others are having some fun and has an ambitious desire to rule over her co-workers.
Nadine appeared 12 episode in the series. She is the last new employee to be hired.
Despite Pearl and Nadine get along very well and share similar interests, Nadine claims that they are not friends.
Although it is not mentioned in her profile or displayed on her desk arrows, she dislikes technical tasks.
Ad blocker interference detected!
Wikia is a free-to-use site that makes money from advertising. We have a modified experience for viewers using ad blockers

Wikia is not accessible if you've made further modifications. Remove the custom ad blocker rule(s) and the page will load as expected.