Duncan

Duncan

Gender

Male

Position

Manager

Relaxes by

Drawing whiteboard diagrams

Likes

Giving motivational pep talks, office supplies

Dislikes

Other people messing his whiteboard, femininity

Strengths

None

Weaknesses

None

First Appearance

Episode 13 "The Man Himself"

Final Appearance

Episode 17 "The Stress Test"
"It's a man's world, and I'm a man. Yep, just checked. Manly."
Duncan Morgenstern
is the manager of Conkling Associates International in Miss Management.
Background
Edit
Duncan is one of the senior managers in C.A.I and he works in the central office of the company. Ashley is his niece who is hired later in the game.
After managing Denise's team briefly, he decided to leave C.A.I to open a gym with a business partner named Anthony.
The gym Duncan started out is turning into a local chain, with branches in every trendy neighborhood. He is also considered adopting a boy from China and spent time shopping for baseball mitts.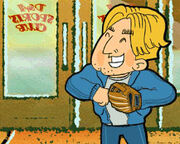 Appearance
Edit
Duncan has blonde center-parted hair with a little of stubble on his chin. He wears a brown jacket, orange vest with a red tie and blue pants.
Personality
Edit
Duncan is depicted as a patronizing, know-it-all employer. He forcefully wants work to be done his way, regardless it will cause negative consequences to other employees. He is also portrayed as a chauvinist. 
Duncan appears in 5 episodes, the least of all employees.
He appeared in the end of episode 18 to announce his resignation.