Brooke

Brooke

Gender

Female

Position

CEO

Relaxes by

Working out on treadmill

Likes

Multitasking, coffee

Dislikes

Employees being unproductive

Strengths

Art, Financial, Technical, Writing

Weaknesses

None

First Appearance

Episode 25 "The Lady Upstairs"

Final Appearance

Episode 30 "Her Real Plan"
"If only there were 46 more hours in a day, I could get everything done."
Brooke Conkling
is the Chief Executive Officer of C.A.I in Miss Management. She is known for being a stressed workaholic and a fitness nut.
Background
Edit
Brooke is married to Alex Conkling Jr. and inherited the company. She was monitoring Denise and her team during project PEARL and decided to move the team to her executive office after corporate reconstruction.
Brooke started a new company that has a five-star rating on employee's quality of life. She also learned to delegate and spent two hours in the morning doing yoga.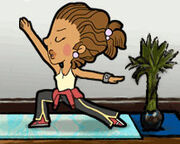 Appearance
Edit
Brooke has long brown hair tied to a high ponytail. She wears a white tank top with black track pants with red sneakers, with a red jacket tied to her waist and a sports band on her left hand. She is also often seen holding a blue drinking bottle and a folder.
Personality
Edit
Brooke is a very motivated employee who focuses a lot on work efficiency. She was unhappy with the productivity of her previous team she worked with and fired all of them. She has trust issues with her coworkers' abilities and having a problem delegating work to others.
Brooke appears in 6 episodes.and is the final character to appear in the series.
She is Winston's elder sister.