Ashley

Ashley

Gender

Female

Position

Artist

Relaxes by

Freshening up in the bathroom

Likes

Eligible bachelors, shoes

Dislikes

Other people hogging the bathroom, smoke, air conditioning, music

Strengths

Art

Weaknesses

Financial, Technical, Writing

First Appearance

Episode 15 "Shore Leave?!"

Final Appearance

Episode 27 "What a Girl Wants...?"
"Prada, Louis Vuitton, Jimmy Choo... you know, the important things in life!"
Ashley is an artist in Conkling Associates International in Miss Management. She is portrayed as a materialistic gossiper.
Background
Edit
Ashley is Duncan's niece and her family is in Manhattan. She is a graphic designer hired by Duncan. She needed a job due to her parents froze her trust fund.
After being absent from work in episode 26, Ashley returned to the office to announce that she had found a hedge fund manager boyfriend named Charles Babbington III. She decided to settle down and resigned from C.A.I shortly after.
Ashley's first marriage ended tragically when she annulled on grounds of "he bought me an imitation Versace bag." Fortunately, she found an "even better lawyer boy" three months later at a party in the Hamptons. She's happily married and living on the Upper East side of Manhattan.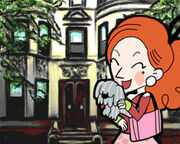 Appearance
Edit
Ashley has red curly hair tied with a black ribbon. She wears a red blouse with a pink skirt and is seen with white earrings. She also carries a small grey terrier puppy in her pink purse.
Personality
Edit
Ashley has a pampered and spoilt personality. She has an active dating lifestyle as she quickly moves on from one guy to the other, and often breaks up over petty issues. She loves to gossip and talk about the latest fashion trends and guys she dated.
Ashley appears in 12 episodes. She is technically replacing Tara as the artist of the team.
She is the last employee to resign from C.A.I during the series.